Super happy to announce the release of "COLOGNE" – when the Sauce Boss Kemar Highcon links up with Smo and Reid you know its gonna be TROUBLE!! Crazy Riddim and fresh Vocals guaranteed to make you move your feet!! Dropping tomorrow, Friday – July 8th (on all platforms!!)
Hit the link to pre-save and help us mash up the Algorithm 🔥🔥🔥
>>> Download here

Kemar Highcon feat. DJ Smo & Reid Waters – Cologne!! 
The Sauce Boss kicking off the summer in a proper way!
Crazy Riddim and fresh Vocals guaranteed to make you move your feet!!
Dropping tomorrow, Friday – July 8th (on all platforms!!)
Pre Save / Pre Order: PRE SAVE (CLICK!!)
Download Promo mp3: Promo mp3 (Download – Click!)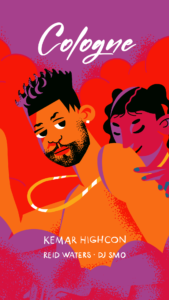 [fbcomments]