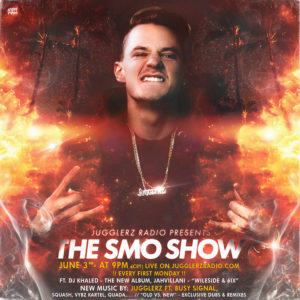 Here we go!!!
This time we taking a close look at the new DJ Khaled Album,
talk about Khaled as a Soundboy and Producer,
listen to the latest Songs aaaand you'll also get
plenty of the usual fuckery, dancehall news and gossip lol.
Brand new Songs by Jahvillani, Koffee, Govana, Vybz Kartel,
Popcaan, Brand new Jugglerz Dubs (!!) & Refixes,
NEW Artists and BARE VIBES!!
You kno how it go.. its the SMO SHOW!!!!
– on jugglerzradio!!!