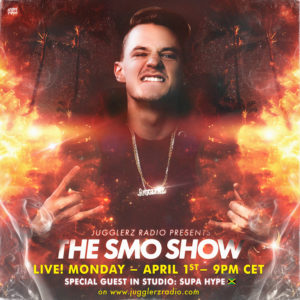 The Smo Show!!
Unruly, Uncensored & X-Rated!!
Every first Monday on jugglerzradio.com //
This time am proud to announce a special guest
in the studio with me; non other than Jamaica's
craziest and hypest DJ: Suuupa Hyyypee!!!!
Don't miss out and tune in, Monday April 1st,
at 9PM CET (21:00 Uhr), right here on jugglerz.de !!!
>>> Download here

The Smo Show: Live, April 01, 2019 – with Supa Hype
Supa Hype is one of the most successful Selectors/DJs in
the industry and has been around for quite some time:
After years of being the resident DJ and host of Kingston's
infamous "Mojito Monday", now being responsible for
Sexy Tuesday's, currently one of the hottest  events in Kingston!
Supa is also a well known face on Jamaican TV (Hype TV, …) and
Radio (Host and DJ of "Scorching Saturdays" on Suncity Radio),
as well as the producer of legendary dancehall anthems,
such as Tony Matterhorn's "Dutty Wine".
Instagram: @supahypeUPT @sexytuesdaysJA