Jugglerz Sound live in Brooklyn, NYC at Hot97 Massive B's Fire Sundays, May 22nd 2016.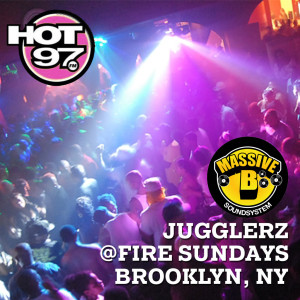 Fire Sundays in Brooklyn is one of the most popular events in New York City. The World famous host-Sound Massive B has been building this weekly dancehall party since 1994. Bobby Konders and Jabba are also the hosts of a very popular radio show on the cities biggest urban and hiphop radio station Hot97.
Jugglerz in New York City
When Jugglerz Sound with Shotta Paul and DJ Meska was in New York in May 2016 to play shows in Philadelphia and Connecticut and also to work with legendary Fugees-Producer Jerry Wonda, it just had to happen that "Europe's No.1 Sound" touched the stage / balcony at this crazy event that Shotta Paul later called "one of the coolest parties in the world".
Among the cities top DJs, Bobby Konders gave Jugglerz the top spot in the night for their 30 minutes pass through – a chance to showcase their talent and craft that the two German Selectas did not miss.
Enjoy the audio recording when Jugglerz shell down the place with the hottest dancehall, hiphop tracks and dubplates for the summer 2016 – Brooklyn Style.
[fbcomments]