[Cologne, Ger] Jugglerz has been voted Soundsystem of the Year 2015 by the reader's of renowned Reggae media RIDDIM Magazin – for the third time in a row! Also all acts signed to Jugglerz: Miwata, Rudebwoy and Kingseyes have climbed the yearly charts.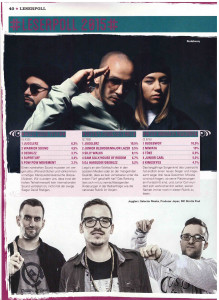 Jugglerz is Soundsystem of the Year 2015 – a category that has now been united from "Soundsystems national" and "Soundsystems international", which makes it even more special. With a clear heads-up towards the competitors, this shows that the four year old Jugglerz Sound is the leading Soundsystem in the European market. Being awarded Number 1 for the third time in a row proves that the people love Jugglerz fresh, innovative and enthusiast approach to sound system culture.
Rather surprising is the Number 1 spot in the category "Producer of the Year", one rank better than Junior Blender of the world famous Major Lazer. This vote definitely strengthens Jugglerz Records for the releases of 2016 that has just stared powerful with the Top 20 production "Jugglerz City".
"Rudebwoy" is Newcomer of the Year. The German Dancehall act that had its first release on Jugglerz Records in September 2015 is voted Newcomer of the Year. This proves Jugglerz' feeling for acts that appeal to the market and the quality of the production and songwriting. Also Jugglerz recording artist "Kingseyes" is in the charts: Number 5 spot as Newcomer of the year and his album "Curiosity" holds the 5th spot in "Album of the Year"
Miwata steps up from the Newcomers and now is voted 3rd place in "Artist of the Year". With his album "Akustik Session" as 2nd best Album this shows the progress this talented artist is making.
In other categories Jugglerz.de was voted third best Website, Jugglerz "Vybz Kartel – Bars from behind bars" as 2nd best mixtape.
[fbcomments]