"BARS FROM BEHIND BARS 2" JUGGLERZ MIX VOL. 7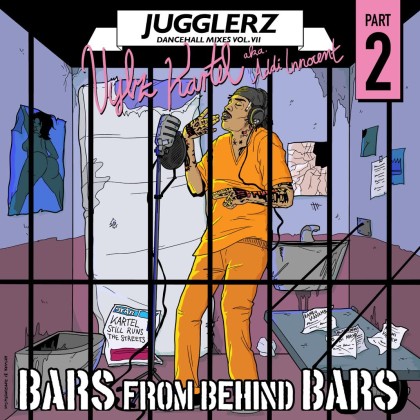 Vybz Kartel aka Addi Innocent, Dancehall's biggest star, is imprisoned for 35 years for murder and is in jail since September 2011 – yet still he has a bigger output than any other dancehall artiste. His tunes rule every dance, are being played in every taxi in Jamaica and get the biggest forwards. His family refers to a stock of more than 600 unreleased songs, rumours on the streets have it that he records in his cell with an Iphone.
Both ways elevate the artiste Vybz Kartel into the super-human: 600 recorded but unreleased songs, among them many serious hits and unique epoques of stlyes and flows augment the works of any other artist.
Or material recorded in prison, with the devastating background of a lifetime sentence, singing about sex, party and life itself show an incredible strong mental spirit of the convicted.
Jugglerz Sound Dancehall Mixes Vol 7 "Vybz Kartel aka Addi Innocent – Bars From Behind Bars 2" is the sequel of the 2014 released first part that proves the incredible musical talent of the convicted Adidja Palmer.
 —————————————————-
Vybz Kartel aka Addi Innocent, Dancehalls biggest Star, sitzt seit September 2011 für 35 Jahre in Haft wegen Mord – und hat dennoch einen höheren Output als alle anderen Dancehall-Artists. Seine Tunes regieren jeden Dance, schallen aus jedem Taxi und geben die größten Forwards. Seine Familie verweist auf einen Fundus von über 600 unveröffentlichten Songs, auf der Straße kursieren Gerüchte von Aufnahmen in der Zelle mit einem Iphone.
Beide Varianten erheben den Künstler Vybz Kartel ins Übermenschliche: 600 aufgenommene, aber nicht veröffentlichte Songs, die viele ernsthafte Hits beinhalten und ganze eigene Stilwechsel und Stilepochen des Künstlers aufzeigen, übersteigen das Werk jeglicher anderer Künstler.
Oder aber im Gefängnis aufgenommenes Material, in dem er vor dem trostlosen und verzweifelnden Hintergrund einer lebenslangen Haftstrafe über Sex, Party und das Leben sinniert, zeugen von einer unglaublich starken psychischen Kraft des Verurteilten.
Jugglerz Sound Dancehall Mixes Vol 7 "Vybz Kartel aka Addi Innocent – Bars From Behind Bars 2" ist die Fortsetzung des 2014 erschienenen ersten Teils, der beweist, welch einmaliges musikalisches Talent in jenem verurteilten Adidja Palmer steckt.
Tracklist:
01. No Trust People Dubplate 02. Believe It 03. Party On 04. My Life Belongs 05. Party 06. 6 Missed Calls 07. Key Stone 08. The Goods ft Keshan 09. Volcano 10. Dancehall 11. Facebook Like 12. Speedometer Bunup 13. Bob Marley & The High Trees 14. Box Lunch 15. Unstoppable 16. Ungrateful 17. Straight And Narrow 18. Everybody 19. Money Me A look 20. Lobster 21. Too Badmind 22. Mind Dutty 23. Jamaica Land We Love 24. Pound Of Rice 25. Who Trick Him 26. Fast Life 27. Drink Up 28. New Jordans ft Rvssian 29. Customer Care 30. Ignite The World 31. Love So 32. Paradise 33. Pale Blue Dot 34. I Promise You 35. Gon' Get Better 36. Rep 37. Pressure 38. Money Pon Mi Brain 39. Fix Up 40. Man Straight 41. So High Up On The Moon 42. Protect Me 43. Hello 44. Enchanting 45. Conjugal Visit ft Spice 46. Supervisor 47. Have A Little More 48. Champagne Bubble
Part 1 from 2014:

[fbcomments]