Jugglerz Sound presents:
The official Reggaejam 2015 Mix
by DJ CUTLASS 
REGGAEVILLE SOUNDCLOUD LINK:
Der
Reggaejam in Bersenbrück
ist nicht nur laut den Lesern das RIDDIM Magazins das
beliebteste Reggae Festival Deutschlands.
Daher ist Jugglerz Radio besonders stolz, den diesjährigen offiziellen Artist-Mix zu präsentieren.
Dj Cutlass ist sehr jung im Game: er darf gerade mal die Nacht im Club durchfeiern und macht seine ersten Moves als Reggae Selector. Bescheiden und aufrichtig arbeitet er 100% fokussiert für seine musikalische Leidenschaft – für die er sehr großes Talent besitzt. Grund genug das jüngste Mitglied des Jugglerz Teams mit dieser verantwortungsvollen Aufgabe zu betreuen und ihn mit dem offiziellen Reggaejam Mix 2015 ins Rampenlicht zu rücken.
Der offizielle Reggaejam Mix 2015 präsentiert alle Artists auf dem Line-Up, wie sie bis Anfang Juni angekündigt waren in einem erfrischenden Mix: Dj Cutlass verlässt sich nicht nur auf bekannte Hits, sondern highlighted auch neue oder weniger bekannte Songs der Artists. So bekommt der Hörer die Gelegenheit, Neues zu entdecken und die Artists besser kennen zu lernen.
Viel Spaß beim Mix und beim eingrooven auf den Reggaejam Festival 2015.
—
Reggaejam is the people's festival. Ever year it gets awarded by RIDDIM Mag's readers as their favourite musical weekend! That is why Jugglerz Radio is especially proud to present this year's official Artist Line-Up Mix!
Dj Cutlass is very young in the game: he is barely allowed to party in the clubs until the morning and is making his first steps as a Reggae Selector. With a humble and decent character he is 100% focussed on his passionate work as a musical ambassador – which he is very talented in! Reason enough to put the youngest member of the Jugglerz team into the spotlight with the demanding task of mixing the offical Reggaejam 2015 mixtape!
The official Reggaejam 2015 mix features all artists on the line up as announced until start of June 2015 in a refreshing mix: not only popular Hits are presented but also lesser known or new tunes by the artists on the lineup are introduced. This gives the listener an entertaining possibility to get known to new music and to discover more of the artists' cataloques.
Enjoy the mix and get in the groove for Reggaejam Festival 2015!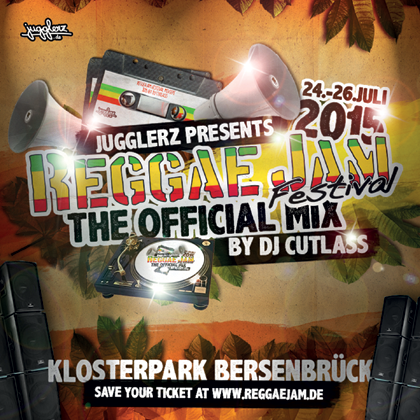 TRACKLIST: 
Lukie D – Reggae Jam Special
Lukie D – Reggae
Cali P – Solution
Mono & Nikitaman – Bis ans Ende der Welt
Jah Sun – The Storm
Bugle – Survivor
Bugle – Jah Be With You
Richie Campell – That`s How We Roll
Bugle – Anointed
Jah Sun – Never Give Up
Richie Campell – I`m Going
Shuga – Complicated Love
Shuga – Wet Dream
Lukie D – Real Double Trouble
Cali P – Hotsteppa
Anthony B – Bun Babylon
Ganjaman – Läut den Alarm
Assassin – Something`s Gotta Give
Clay – Love and Be Loved
Pressure – Love & Affection
Cali P – Sweetest Thing
Bitty McLean – A Step Closer
Pressure – Crazy Love
Junior Kelly – Blaze
Tippa Irie – Just A Little Weed
Yellowman – Zunga Zeng
Tony Tuff – First Time I Met You
Keith & Tex – Stop that Train
Alpha Blondy – Cocody Rock
Tristan Palmer – Joker Smoker
Bugle – Wha Dat Fah
Assassin – What`s Da Story
Pressure – More Justice And Truth
Chezidek – In My Heart
Junior Kelly – Love So Nice
Cali P – Wha Gwaan
Mellow Mark – Explosion
Chezidek – Damage
Mark Wonder – Stand Tall
Lukie D – All Of Me
Ronny Trettmann – Keine Neue Tür
Assassin – Assassin
Mr Vegas – Long Time
Chaka Demus – Murder She Wrote
Spragga Benz – She Love Me
Mr Lexx – Duppy Dem
Mr Vegas – I Am Bless
Mono & Nikitaman – Unter Freunden
Ronny Trettmann – Kurz Vor Nacksch RMX
Spragga Benz – SWA
Mr. Vegas – Squat
Mono & Nikitaman – Wenn Sich Der Nebel Verzieht
Mr Lexx – Do Road
Comments
comments
Powered by Facebook Comments