JUGGLERZ DANCEHALL MIX VOL. VI "REGGAEMILES"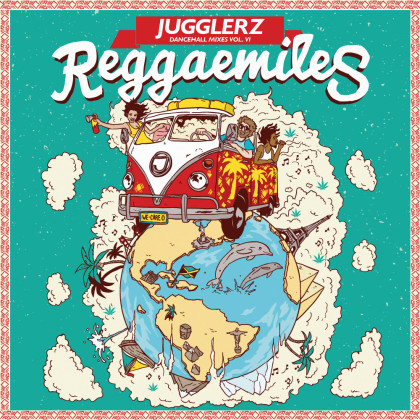 Jugglerz Dancehall Mix Vol. VI "REGGAEMILES"
The summer sounds nice! Jugglerz gives you the best selection of Reggae music 2015.
Float away in musical perfection when you listen to the mix by one of the world's most dexterous Dancehall-selectas DJ Meska.
Continuing the legacy of the previous awarded Jugglerz Mixtapes""Survivor", "Smile" and" "Change", this year's edition takes Reggae from Jamaica around the world: All over the globe people share the love of music, positive thinking and good vibes! "Reggaemiles" are the miles that you trod in the name of music.
Tracklist:
1. Bugle – Got A Lot Of Love
2. Kabaka Pyramid – Change This World
3. Vershon – Inna Real Life
4. Shaggy – U Lied
5. Cecile – Loyal
6. Jah Melody – Over U
7. Pressure – Once Again
8. Morgan Heritage – Put It On Me
9. Busy Signal – Reggae Make You Rock
10. RC – Propaganda
11. Christopher Martin – Sweet Sweet Love
12. Romain Virgo – Stick By You
13. J Boog – Let Me Love You
14. Tarrus Riley – Cool Me Down
15. Konshens – It's Gonna Be OK
16. Jemere Morgan Ft. Gramps Morgan – Try Jah Love
17. Morgan Heritage – Talk Dem A Talk
18. Dalton Harris – Words Of Wisdom
19. Duane Stephenson – Miss Wire Waist
20. RC – Won't Tell You A Lie
21. Jah Sun ft Randy Valentine – My Brother's Keeper
22. Protoje ft Jesse Royal & Sevana – Sudden Flight
23. Sara Lugo & Protoje – Really Like You
24. Shaggy – Don't Stop
25. Chronixx – Play Some Roots
26. Jah Sun ft Dre Island – Carry On
27. Jah Sun – Never Give Up
28. Luciano – Where Are The Hearts
29. Cali P – Solution
30. Zagga – So Far Away
31. Exco Levi – Love
32. Jah Sun – The Storm
33. Million Stylez & Ras Manuel – Healing Of The Nation
34. Alkaline – In This World
35. Tarrus Riley – Jah Jah Run Things
36. Mavado – She's The One
37. I-Octane – I Will Be There
38. Kabaka Pyramid – Waiting For You
39. Bugle – Good Friends
40. Jah Vinci – Never Give Up
41. Vershon – Used To Hungry
42. Vybz Kartel – Protect Me
43. Konshens – Original Daddy
44. Bugle – Be Proud
45. Clay – Fire
46. Jah Cure – Rasta
47. Kingseyes – Come Back Home
48. Romain Virgo – Star Across The Sky DUB
49. Exco Levi – Reggae On Broadway
50. Kingseyes – I Can't Stop Loving You
51. Chronixx – Plant It
52. Lukie D – Redemption Time Again
53. Ziggi Recado – Wolves And Vampires
54. Cali P – Wa Gwaan DUB
55. Randy Valentine – Wake The Town
56. Inner Circle Ft Chronixx & Jacob Miller – Tenement Yard [News Carryin Dread]
57. Bugle – Wha Dat Fah
58. Daniel Bambata Marley – Free It Up
59. Jah9 – Avocado
Comments
comments
Powered by Facebook Comments