Report: Beer Vibes, Smirnoff Dream Weekend, Sunday August 3, 2014, Negril, Jamaica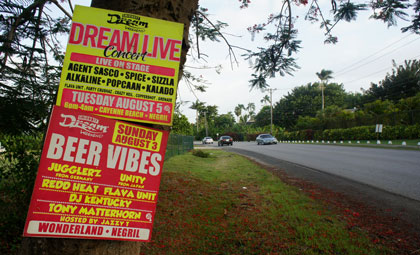 hosted by
Jazzy T
(Renaissance Sound)
*We know: Soundkillers dont do writeups. Especially not about themselves. But since there is no official audio and the video-files of the events are yet to drop we decided to do this for our fans back home who couldnt be there. So if you dont like it dont read it.
We arrived around midnight. The huge lawn was already filled with people. Flava Unit was playing a set with mostly HipHop Music. Up next was DJ Kentucky with a tight Jamaican-style juggling set but did not get any forwards or the like. Unity Sound from Japan did a good job juggling but were not strong enough to be more relevant. When we entered the stage the host Jazzy T introduced us in a clash like manner, which also set the vibe for our round. We came out and started with a speech bigging up everybody in the dance and the areas we represent. Then we read out the Dj Contract: "no lyrics that promote violence against any group especially homosexuals – so Matterhorn that means your safe tonight, doh?"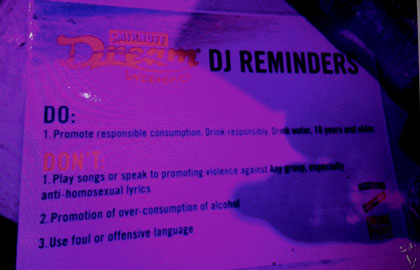 This already put Matterhorn in a defensive postition out of which it was hard to him to come back. We went into a girls juggling with
I Octane
and Assassin Dubs cut especially for the occasion and ended the round with a
3 minute Aidonia "80s style" Dub
that levelled the whole dance, the 8000 people went madd!
Tony Matterhorn was next and started with a speech something like: "yo the white bwoy them think they can come up ya and cuss one bagga badword and get a forward. The Japanese them try that before!" And then he played the Beenie Man while singing along: "I'm a blackman not a nigger you is a white man not a cracker.. Well me nah beg no pussy hole nutten from mi done get mi things.." and got a forward. He then went into a girls juggling and also played tunes dissing battybwoys which wasnt that well received. He didnt get a forward bigger than ours.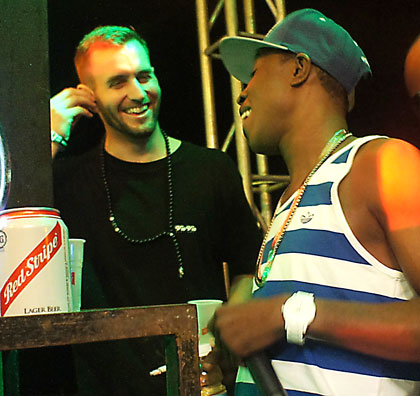 Next Foota Hype came in as a surprise selector for Redd Heat. He tried to diss Jugglerz because we big up Buju and Kartel but only played Kartel. But he then did not play Boom Bye Bye like anticipated and not even any other Buju which actually flopped his speech and performance. Flava Unit came back on and got a nice forward with a speech about every youth who get a school degree and work hard and then dropped Popcaan. Dj Kentucky then juggled a 10 min party selection for the crowd.
We returned on stage and started about Foota Hype and that we got the Buju and dropped "Murderer." Then we turned to Matterhorn: "sixty year old Matterhorn, senior citizen Matterhorn, you old. You bout the same age as mi father. You old. No badda feel like tru you have on tight pants and tanktop that mek you young, yuh old. You use Just For Men. Right now, if the rain a fall and wet you up your shirt tun black with the hairdye. You dye dye like Makka. Matterhorn you old. Gwan collect your pension. You expire like seven week old cracka. By the time the weekend done you done!"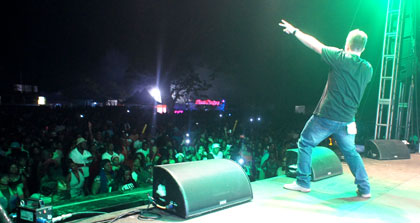 We didn't even get to play the Rhyme Minista Custom we had saved for the last forward because the police on stage turned off the sound at 4:12am.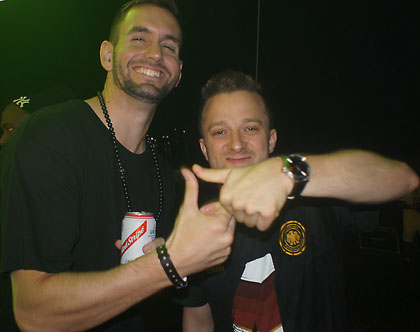 Matterhorn was left hurting badly. Everybody in the dance wanted a picture with the two bad german dem, even the Police Superintendent had a laugh with Shotta Paul: "He wouldnt get a licensed gun in Jamaica, he would have to change the adress hahaha" because Paul said he was staying in Salt Spring, Montego Bay. The Sup then added: "bwoy, mi nuh deep ina the culture like a you, respect!"
VIDEOS OF THE NIGHT:
JUGGLERZ ROUND 1
JUGGLERZ ROUND 2
ONSTAGE TV: GERMAN SOUND KILLS TONY MATTERHORN
[fbcomments]