Mighty Rock 4 yrs Anniversary, Jugglerz, Killamanjaro, King Ghetto, Mighty Rock, Burnt Savannah Sports Complex, St. Elizabeth, Jamaica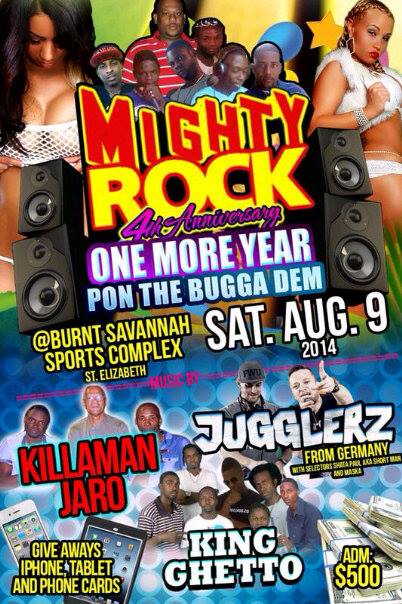 LINE-UP:
Jugglerz
Killamanjaro
King Ghetto
Mighty Rock
*We know: Soundkillers dont do writeups. Especially not about themselves. But since there is no official audio and the video-files of the events are yet to drop we decided to do this for our fans back home who couldnt be there. So if you dont like it dont read it.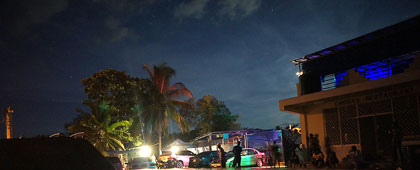 It was an original-style setting: Mighty Rock and King Ghetto used two columns while Jaro used three and sounded as high definition as possible while the bassline would let every cell in your body vibrate. Mighty Rock also had a clear and sophisticated sound, only King Ghetto was a little loud on the tweeters and the mic. Jaro played a warmup juggling of strictly dubplates that set the right vibes for a big night. Dj Meska of Jugglerz then juggled more than an hour of warmup sound which was well enjoyed by the patrons chilling in- and outside the lawn. Mighty Rock then started the juggling. The young team has a good vibe, the selector is skillful and the mc got some good speeches. They definetely have the potential to make their name within Jamaica's sound system culture.

We started our first round also bigging up all good policemen since it just had happened that a youth got beaten to death in a police station in Mobay over a Ganja spliff. The juggling was well received by the couple hundred people, even though we had to adjust to the fact that there was no monitor speakers like it is often done in the column-setting of a sound system.
The party was off the chain, a girl crew of dancers went hard to get the Iphone and Tablet giveaways – walk like a dog, cock up an piss and dung ina your throat – these girls even tried to swallow a speaker-stand and were not shy to showcase their hottest bedroom moves – Jamaican style.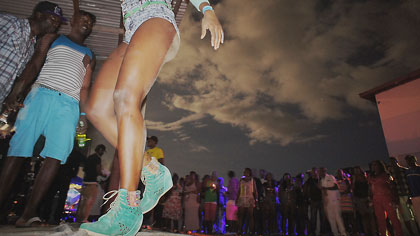 In the next round we gave the people the international Jugglerz juggling and the party went from madd to totally crazy. It wasnt until the wee hours of the morning when it boiled down to five tunes each sound in a dub fe dub style juggling. The promoter, knowing we were not booked to clash, asked every sound: are you up to it?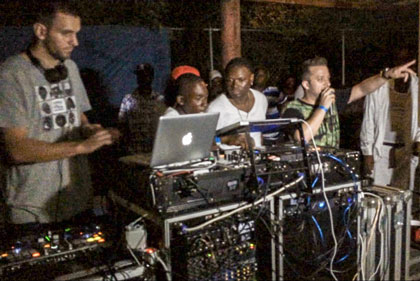 So every sound fired shots at each other, we attacked Jaro with a Romain Virgo Dub saying: "bwoy with your big old sound you not bad like Jugglerz!" Freddy tried to escape by saying he wasn't inna the juggle juggle war he was a big sound and played a Tenor Saw Dubplate.
Shotta Paul answered: "Freddy, you are the only sound that can play a Tenor Saw in here and you flop it like that – that simply means you nah have no talent." And dropped Luciano: "it takes more than Dubplates to make you a champ – doesnt matter what you play now soundbwoy as long as you not juggle it right you will lose your life!" Which got a big forward. Shotta went on: "and Freddy, you badmind: you glad that Tenor Saw is dead. You glad Garnett Silk is dead, cause you can say, rae, a mi alone play them tune ya. Me, mi no wish bad fi no man! Every artist fi live, rich and healthy!" And then Meska let off an I Octane saying:" Some bwoy glad fi see artist dead and them alone got it pon dub! Them glad Tenor Saw and Garnett Silk dead and we no get none" The place exploded. Then Shotta and Meska finished off the other sounds saying that they would go home to their Mama's yard to enjoy some nice breakfast with Ackee&Saltfish,,then dropped a Cocoa T: Soundbwoy, I'm glad to go home to see my mother, a cook Ackee & Saltffish and banana". The 80 – 100 people in the bright morning light declared the dance finished, Jaro had nothing left to say, they were shut down.
This spontaneous clash is an unforgettable moment in sound system history and an example of the true art of soundclashing: original vibes, original juggling-turned-clash and the young Jugglerz Sound conquering the big sounds drawing for dead artists as their trump card!
VIDEO: 
[fbcomments]