JUGGLERZ DANCEHALL MIX VOL. IV "SURVIVOR"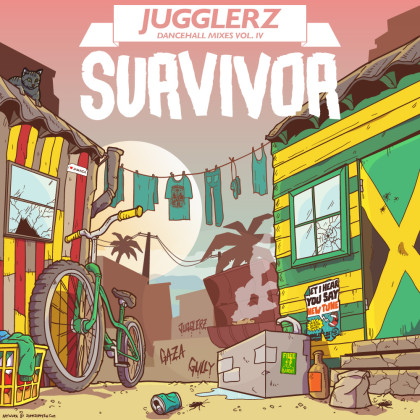 Jugglerz Dancehall Mix Vol. IV "SURVIVOR"
The sound of the summer! Germany's favorite Soundsystem once again assembles the best and most affecting one-drop Reggae Songs in a refreshing mix. Enter a state of full musical bliss when you listen the 2014 edition of what became the best Mixtapes 2012 and 2013: "Survivor" is the title of Beenie Man's Song on Jugglerz own "Penthouse" Hit-Riddim and also the title of the mixtape: Roots, Rock, Reggae of today – the struggle is still real, people still suffer all over the world, Babylon system is still trying to corrupt the minds of the people – "Survivor", it is the sound of the right-now generation.
Download ohne Facebook: http://fresh-juice.de/jugglerz-survivor-mixtape/
Jugglerz Dancehall Mix Vol IV "SURVIVOR"
Der Sound für den Sommer! Deutschlands beliebtestes Soundsystem versammelt die besten und ergreifendsten one-drop Reggae Songs des Jahres in einem erfrischenden Mix. Musikalische Glückseligkeit stellt sich ein, wenn der neue Mix die als beste Mixtapes 2012 und 2013 gekrönten Werke sogar noch toppt: "Survivor" ist der Titel des Song von Beenie Man auf dem von Jugglerz produzierten "Penthouse"-Riddim und der Titel des Mixtapes: Roots, Rock, Reggae von heute – der Kampf geht weiter, noch immer leiden Menschen auf der ganzen Welt an Armut während Babylon System noch immer mit den Menschen spielt – "Survivor" ist der Sound der Generation Jetzt.
Download without Facebook: http://fresh-juice.de/jugglerz-survivor-mixtape
;
Tracklist: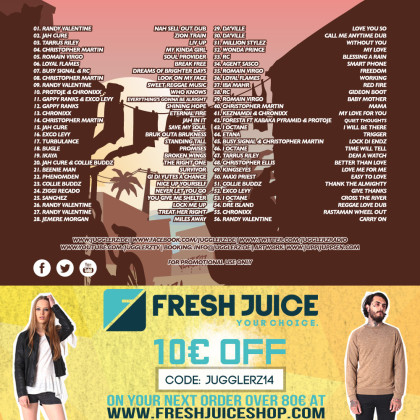 1 RANDY VALENTINE – NAH SELL OUT DUB
2 JAH CURE – ZION TRAIN
3 TARRUS RILEY – LIV UP
4 CHRISTOPHER MARTIN – MY KINDA GIRL
5 ROMAIN VIRGO – SOUL PROVIDER
6 LOYAL FLAMES – BREAK FREE
7 BUSY SIGNAL & RC – DREAMS OF BRIGHTER DAYS
8 CHRISTOPHER MARTIN – LOOK ON MY FACE
9 RANDY VALENTINE – SWEET REGGAE MUSIC
10 PROTOJE & CHRONIXX – WHO KNOWS
11 GAPPY RANKS & EXCO LEVY – EVERYTHING'S GONNA BE ALRIGHT
12 GAPPY RANKS – SHINING HOPE
13 CHRONIXX – ETERNAL FIRE
14 CHRISTOPHER MARTIN – JAH IN IT
15 JAH CURE – SAVE MY SOUL
16 EXCO LEVY – BRUK OUTA BRUKNESS
17 TURBULANCE – STANDING TALL
18 BUGLE – PROMISES
19 IKAYA – BROKEN WINGS
20 JAH CURE & COLLIE BUDDZ – THE RIGHT ONE
21 BEENIE MAN – SURVIVOR
22 PHENOMDEN – GI DI YUTES A CHANCE
23 COLLIE BUDDZ – NICE UP YOURSELF
24 ZIGGI RECADO – A NO MY FAULT
25 SANCHEZ – YOU GIVE ME SHELTER
26 RANDY VALENTINE – LOCK ME UP
27 RANDY VALENTINE – TREAT HER RIGHT
28 JEMERE MORGAN – MILES AWAY
29 DA'VILLE – LOVE YOU SO
30 DA'VILLE – CALL ME ANYTIME DUB
31 MILLION STYLEZ – WITHOUT YOU
32 WONDA PRINCE – MY LOVE
33 RC – BLESSING A RAIN
34 AGENT SASCO – SMART PHONE
35 ROMAIN VIRGO – FREEDOM
36 LOYAL FLAMES – WORKING
37 IBA MAHR – RED FIRE
38 RC – GIDEON BOOT
39 ROMAIN VIRGO – BABY MOTHER
40 CHRISTOPHER MARTIN – MAMA
41 KEZNAMDI & CHRONIXX – MY LOVE FOR YOU
42 FORESTA FT KABAKA PYRAMID & PROTOJE – QUIET THOUGHTS
43 I OCTANE – I WILL BE THERE
44 ETANA – TRIGGER
45 BUSY SIGNAL & CHRISTOPHER MARTIN – LOCK DI ENDZ
46 I OCTANE – TIME WILL TELL
47 TARRUS RILEY – DEM A WATCH
48 CHRISTOPHER ELLIS – BETTER THAN LOVE
49 KINGSEYES – LOVE ME FOR ME
50 MAXI PRIEST – EASY TO LOVE
51 COLLIE BUDDZ – THANK THE ALMIGHTY
52 EXCO LEVY – GIVE THANKS
53 I OCTANE – CROSS THE RIVER
54 DRE ISLAND – REGGAE LOVE DUB
55 CHRONIXX – RASTAMAN WHEEL OUT
56 RANDY VALENTINE – CARRY ON
[fbcomments]