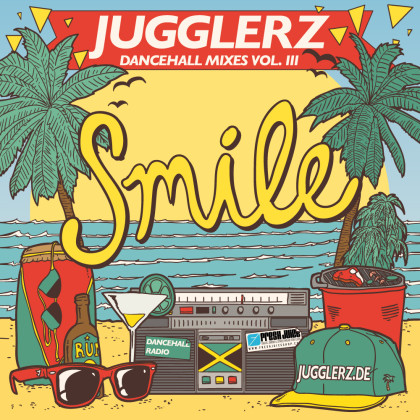 Jugglerz Dancehall Mixes Vol. III "Smile" 
Jugglerz Dancehall Mix Vol. III "Smile"
Click here to download:
http://bit.ly/FREE_MIXTAPE
http://www.jugglerz.fresh-juice.de/
Der Soundtrack für den Sommer ist da: "Smile", der neue Reggae Mix von Jugglerz Sound. 58 Tracks zum nice-fühlen, Vibez tanken und grillaxen! Darunter die besten noch nicht releasten, ganz neuen und ganz großen One-Drop-Hits, innovativ gemixt vom Mixtape Minister DJ Meska. Präsentiert von freshjuiceshop.com, die auf der Rückseite noch einen special Deal für Jugglerz Friends anbieten, ist dieser Mix mit Sicherheit der niceste Mix EVER! Seid Ihr bereit für Sonnenschein für die Ohren?
Jugglerz Dancehall Mix Vol. III "Smile"
Click here to download:
http://bit.ly/FREE_MIXTAPE
http://www.jugglerz.fresh-juice.de/
The Soundtrack for the summer is here: "Smile", the new Reggae mix by Jugglerz Sound. 58 Tracks to feel nice, to fill up the vibez-levels or to simply chillax – from pre-released to the latest and greatest songs in one-drop Reggae in an innovative mix by the Minister of Mixtapes DJ Meska. Presented by freshjuiceshop.com who are also offering a special deal on the backcover for all Jugglerz friends this definitely is the nicest mix EVER! Are you ready for sunshine for your mind?
Tracklist: 
Intro
Tarrus Riley – Life's Story
Mr Vegas- Mighty God
Exco Levi – Take A Walk In My Shoes
Lukie D – High
Romain Virgo – All Out
Busy Signal – Girls Tonight
Etana Ft Busy Signal – Love Love Love
Tarrus Riley – Lover's Leap
Beres Hammond – No Candle Light
Romain Virgo – Everlasting Love
Tarrus Riley – Gimme Likkle One Drop
Kabaka Pyramid – No Capitalist
I Octane – What About The Poor
Zagga – Never Give Up
Chronixx – Ain't No Giving In
Queen Ifrica – Tiad A Da Supm Ya
P.R. Ft Lincoln Thomas – Walking Away
Chronixx – Access Granted
Romain Virgo – Need You
Romain Virgo – Beat You Down
Christopher Martin – Mi Friend Dem
Collie Buddz – No Time
Cornadoor Ft Jungle – Never Let You Go
Ronny Trettmann – Ostseemuse
Mr Vegas – Whenever You're Lonely
Christopher Martin – Jah Light
Chronixx – Thanks And Praise
Chronixx – Start A Fyah
Sizzla – Bun Fire
Busy Signal – The Way You Love Me
Romain Virgo – Cold Side
Miwata – Magie
Cali P – Sweetest Thing Dubplate
Randy Valentine – Over & Over Dubplate
Busy Signal – Hungry Days
Romain Virgo – Why Should I Worry
D Major – Real Know Real
Loyal Flames – Keep Focus Dubplate
Exco Levy – Save The Music Dubplate
Jah Vinci – Nice Again
Morgan Heritage – Ends Nah Meet
Tok – Crying Out
Chronixx – Most I
Chronixx – Champion
Stephen McGregor – Like You
Mavado – Always On My Mind
Jah Vinci – Ghetto Youths
Ce'cile – You And Me
Zagga – Can't Hold Me Down
Alaine – Revolution Song
Jemere Morgan – International Love
Romain Virgo – Cry Tears For You
Collie Buddz – Won't Be Long
Shaggy Ft Beres Hammond – Fight This Feeling
Randy Valentine – Victory
Randy Valentine – Bring Back The Love Dubplate
Stephen Mcgregor – Me Alone
Chronixx – Smile Jamaica