I Love Jamaica Appleton Special Dream Weekend Europe Promo Mix

Jugglerz, Rude 7, Boulder Island & C.O.B. present
I LOVE JAMAICA
Appleton Special Dream Weekend
Europe
Sat. 23. Juli 2016
Bolder Island
Industriestr. 39
68169 Mannheim
Live: RUDEBWOY
Music by:
DJ ENGLISH FIRE (Black Chiney )
Jugglerz (WICKED!WICKED!WICKED!)
DEEBUZZ SOUND (Mannheim/ RUDE7)
LIVE:
Rudebwoy
Original custommade Soundsystems by:
Jahround Sound, Peifen Sound
!Open Air Dancehall Beach Party!
Doors open: 6 pm
10 Euro all night
18+ I.D. Required
Drink responsibly
In case of rain party will be inside Club Rude 7.
Food on sale
Drink special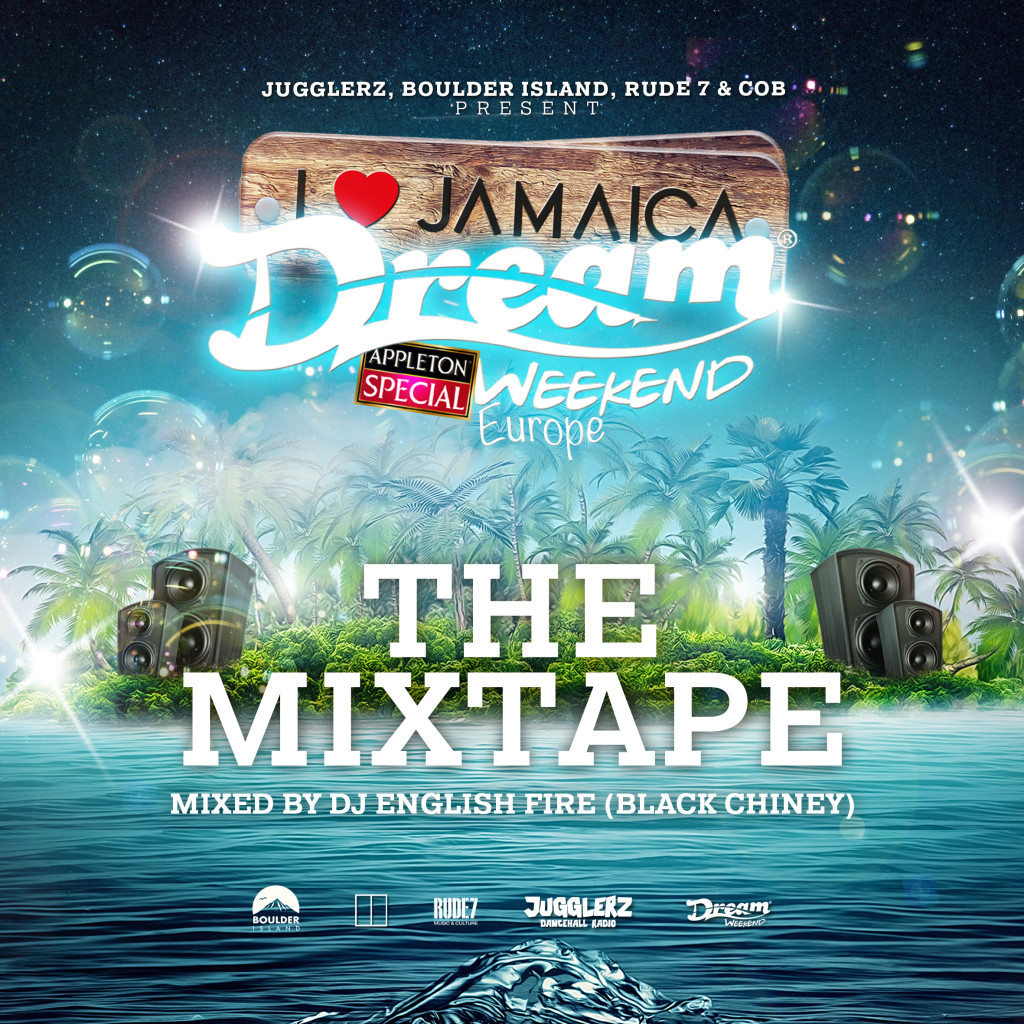 Der Event:
Das Appleton Special Dream Weekend ist das größte Musikfestival der Karibik. über 5 Tage werden am Strand von Negril in Jamaika die heißesten Dancehall, Reggae, Hiphop und Urban Sounds gefeiert. Jugglerz Sound als offizielle Dream Weekend Ambassadors bringen den Vibe der mehrtägigen Beach-Party nach Europa! Es geht früh los mit lockeren Chill-Sounds und Roots Reggae, Outdoor Boldern; Beachball und zu feinstes BBQ und dann wird die Nacht durchgefeiert! Es wird episch!
Die Acts:
DJ ENGLISH FIRE (BLACK CHINEY)
Black Chiney aus Miami ist der Bentley der Soundsysteme: Supadups produzierte mit "One Dance" den Sommerhit des Jahres für Drake. MC Walshy Fire tourt um die Welt als Hypeman von Major Lazer. Willy Chin spielt auf den heißesten Soca und Dancehall Events der USA und Bobby Chin kümmert sich um seinen eigenen Club an der Karibikküste von Belize. DJ English Fire ist die nach England emigrierte One-Man-Show des Grammy-Sounds und unterhält die karibische Community in London auf seinen wöchentlichen Dances. Für uns verlässt er seine Homezone und bringt die heißesten Karibik-Vibes direkt zu uns!
Jugglerz Sound: Europas erfolgreichstes Soundsystem. Dj Meska und Shotta Paul touren die gesamte Welt, gewinnen Soundsclashes in Jamaika und wurden bereits zum dritten Mal in Folge zum "Sound of the Year" gewaehlt. Mit ihrem selbst produzierten Album "Jugglerz City" landeten sie auf Platz 6 der US Billboard Charts fuer Reggae Alben.
Deebuzz: Das größte Soundsystem der Rhein-Neckar-Metropolregion betreibt seit Jahren schon den international bekannten Club Rude 7. Sie spielen einmal im Monat die heißesten Dancehall-Songs auf DasDing! Radio und ihre eigenen Produktionen haben einen Stammplatz in den Playlists von Djs auf der ganzen Welt.
Rudebwoy: Einer der angesagtesten Acts der Deutschen Dancehall gibt sein Debüt in Mannheim: Rudebwoy, das neue Projekt um Rapper Franky Kubrick gilt als Newcomer des Jahres und sorgt für einige Aufregung in der Szene. Hits wie "Whine Für Mich", "Amnesia", "Gunshot" oder "Cookies" lassen den Dancefloor explodieren – und einige Songs der neuen EP werden auch schon präsentiert!
Sunset Vibes: Für die besonderen Vibes präsentieren wir Soundsysteme im original Style! Keine Fabrik-Boxen von der Stange sondern selbst gebaute Soundsysteme – so wie in Jamaica – für den einmalig authentischen Klang könnt ihr zum gemütlichen Sonnenuntergangs-Chillen live erleben. Auf dem Peifen Sound aus Wiesbaden mit 4000 Watt und Jahround Sound aus Mannheim mit 7000 Watt werden wir euch from early mit Roots, Reggae, Dub und Dancehall versorgen – dazu gibt es kühle Drinks und heißen BBQ! MADD!!
Die Location:
Das Boulder Island am Neckarufer in Mannheim bietet mit seinem Sandstrand den perfekten urbanen Flair für die heißeste outdoor Dancehall Party des Sommers. Outdoor Bouldering und Beach-Volleyball im Sonnenuntergang zu chilliger Musik verkörpert Lebensgefühl und Lifestyle der Karibik – mitten in Deutschland.
Bei schlechtem Wetter stellt DeeBuzz Sound ihren benachbarten Club Rude 7 zum Feiern zur Verfügung.
Comments
comments
Powered by Facebook Comments