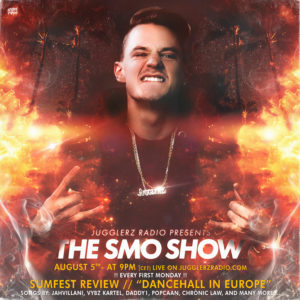 YEAAHHH – it's finally Monday!!!!
I know… not something you usually say but hey..
at least once a month there's 1(!) Monday to look forward to!
This time we're talking about Sumfest 2019
– who took the night?
– what happened with the 6ix performance?
– Jahvillani vs. Chronic Law?
Also got some BRAND NEW SONGS by
Popcaan, Govana, Vybz Kartel, Daddy1, Squash, Chronic Law,
Jahvillani, Tarrus Riley, and many more!!
NEW Artists and – as usual – BARE VIBES!!!!
After that, yup there's more,
we're gonna take a look at EUROPEAN dancehall artists.
More specifically: European Newcomer Artists.
Are there any? Who are they? Does it sound proper?
Let's find out.
Let's have ourselves the EUROVISION DANCEHALL COMPETITION
and find out WHO GOT THE BADDEST SONG in EU right now?
Now don't forget.. while you tune in, there's this thing called
the Shoutbox on our website (right side) – let us know your thoughts
on the subjects and feel free to interact with everyone –
cause after all… THIS IS THE MOST INTERACTIVE XRATED UNRULY 
CRAZY DOPE WICKED EPIC DANCEHALL PODCAST IN THE WORLD!!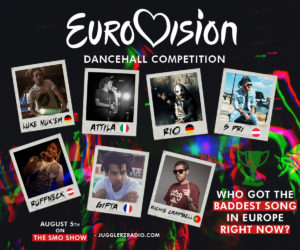 So don't miss out, it's gonna be lit…all this and more,
tonight – MONDAY – 9pm – on the SMO SHOW!!!!
– on jugglerzradio!!!